We are so close to the finish line.
This week my sister, Meghan, sent us the car seat. It's a Britax Chaperone. I had it on my baby registry in the cow print design, and sure enough Meghan couldn't resist. As she is a collector of all things cow... not her fault, it's a childhood nickname she got of "Moo" that stuck. Anyway, she was incredibly generous in giving us the baby's car seat, and it's a monster of a seat. Very large, very sturdy, and incredibly safe. It's gotten several awards and has been written up in several articles as the safest baby seat on the market.
Here's a photo of it:
Some may not agree that the cow print is the most awesome print ever to be made for a car seat but... I'm pretty sure this is one of the coolest car seats I've ever seen.
I also wanted to mention that I picked it because it holds babies up to 30 lbs, which is one of the highest weight limits for an infant carrier, meaning it will last us longer.
Also, this month, Susan and Scott (my in-laws) helped us out a LOT by purchasing the baby's stroller. I had it narrowed down to 3 choices with a 4th alternate... but then had to make a final decision between the Orbit G2 System and the UppaBaby Vista. I'll start out by saying the Orbit is at least $200 more than the UppaBaby, but after thorough research and weighing the pros and cons, we actually felt the UppaBaby Vista was the better stroller.
Here's what made us go with the Vista:
- First, the Vista can be converted from a one-seater to a two-seater very easily. All you have to do is purchase a rumble seat. This is fantastic news for us, since this is our first and likely not our last baby.
- The Vista has the best reviews on Amazon, most parental websites and threads I was able to find online. It also holds a lot of weight, as was demonstrated in this awesome YouTube video I found:
The video above pretty much explains why this stroller is great.
- The vista has more storage space, and comes with a great bassinet for the first few months when Baby can't sit up on her own
- The vista allows baby to sit forward or rear facing, also the company is supposed to be great to work with, an example being how many people complained that the seat didn't sit up enough, so their 2012 version sits up more.
- We felt the Orbit G2 was a bit gimmicky, didn't have enough storage, and I read a lot of complaints about how easily it broke, how badly it hopped curbs, and how cramped the kids in the stroller looked/felt.
An additional bonus, normally the stand that goes with the bassinet is upward of $130, we got ours on sale for $30. So instead of having to buy a separate bassinet for the first few months when the Baby sleeps in our room, I'm just going to use the UppaBaby bassinet for her to sleep in and stroll in. It's a win win. Here's a photo of the stroller we got:
We got a great deal on it too, because they are discontinuing this color, which is actually a lot better looking in person, kind of a deep opalescent grey/blue.
We also ordered our baby a dresser on Cyber Monday from Overstock.com. We got a good deal on it, and though it is not a baby dresser, I think it will go nicely with what we already have. I may end up swapping out the knobs on the drawers to make the dresser more awesome, but I'm happy we got it for a lot cheaper than I thought we would have to spend.
This is the dresser we bought
It should arrive by tomorrow. Here are the knobs I'm thinking about getting: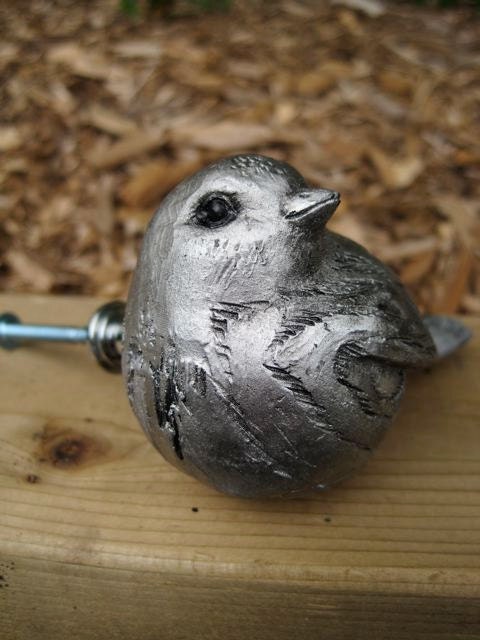 They are on Etsy, sold by
DaRosa
who makes a lot of drawer knobs.
I also ordered a video monitor that was on sale marked down from $300 to $99 for cyber monday. It's pretty cool. I want to get the Snuza hero as well, which monitors the baby's breathing and alerts you if she stops, all you have to do is attach it to her diaper.
This is the Infant Optix DXR-5 2.4 GHz Digital Video Baby Monitor with Night Vision
The Snuza Hero - a great addition if you are paranoid about SIDS and want peace of mind.
All that is left to purchase for the baby is a small bookshelf which I'd like to turn into a changing table as well (the dresser is too tall), a changing pad, and a few smaller things. We're mostly ready.
Last night I finished washing all of her bedding, clothing, even a few of her stuffed animals. I packed a large purse of mine full of stuff I want to bring for her to the hospital (blankets, diapers, a few outfits, and a swaddler). I need a diaper bag still, but am encouraging Jeff to get me a Petunia PickleBottom purse from the Cake line as a Christmas/Push Present.
Isn't it sexy?
I think so...
I also like this Timi and Leslie bag:
It has good reviews. It's also cheaper. So if he won't let me have my cake bag, I may end up with this one instead.
I will post more when the nursery is finished. :)