So I decided after seeing numerous nurseries with the baby's first letter of their name on the wall, that my baby should also have an awesome letter on her wall.
I got a bunch of ideas off Pinterest to help me decide how I would go about making this letter.
Here are a few of the ideas that I liked: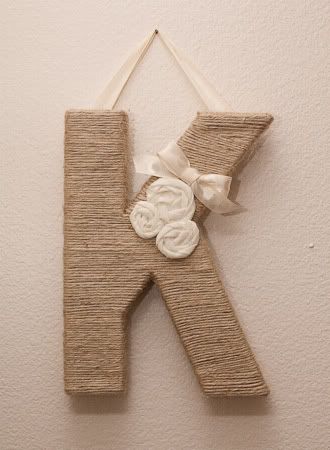 This would involve using a string, however, and I didn't think it would fit the decor I have planned. I'm a little less likely to downplay things, so I had to glam hers up a bit.
I also liked this letter, which is available on Etsy, made by
PerpetualPrep
for a great price! :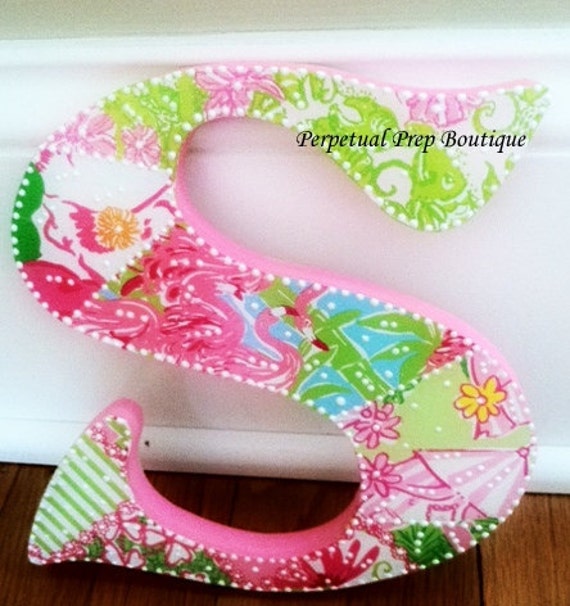 But I really wanted to make my own, and I am not a great fabric manipulator, so I decided to to a flat wooden letter.
I started out just trying to modge podge a bunch of different craft papers onto a wooden letter I bought from the craft store. It's a relatively flat wooden letter, not cardboard, and not very 3D. It cost like $2.
I immediately realized it wasn't working. It looked sloppy. I traced the S on the back of my "base" cardstock paper, which was a bright yellow and blue, and then modgepodged it to the wooden letter.
By sheer stroke of GENIUS (seriously, I'm so glad I thought of this early) I decided it would be fun to wrap a ribbon around it, sort of like the string from the first letter, but more frilly. Instead of wrapping it, I cut the ribbon into small strips so that I could tuck the ends on the back and glue the whole thing down. So each time the ribbon wraps, its actually a separate piece. I hope that makes sense.
I liked the first ribbon so much I just went with ribbons for the rest of the project. I had bought some lace and made a few felt flowers but they looked stupid, so I ended up actually keeping those off, and taking the "less is more" approach to the letter. I chose to do it in mostly silver and blue because those are my main color choices for the nursery, but since the crib bedding is grey and yellow, I kept a little of the yellow in and added some really awesome scrapbook sticker birds I found (also $2). I'm pretty happy with how it turned out.
All it took was a wooden letter, craft paper, ribbons, Modge Podge, and those bird stickers!
I'm not sure if I love it as much as I love the letters from
Anthropologie
, but I love that I could customize the colors and the theme to my nursery, which currently is filled with all these colors and birds :).
Here's the final product: